About Conference
Metabolomics and Systems Biology extends the heartiest welcome toproficient delegates, scientists, professors, students, young researchers,business executives, scholars, chemists and professionals across the globe tobe a part of "2nd International Congress on Metabolomics and Systems Biology" on December 11-12, 2019, to be held at Dubai, UAE. Keynote speech, exhibitions, oral and poster presentations outline the key attractions of the conference on the theme "To Encompass Emerging Trends in Metabolomics and Systems Biology."
Allied Academies is one of the leading Open Access publishers and organizers of international scientific conferences and events every year across USA, Europe & Asia. Allied Academies has sofar organized 3000+ Global Allied Academies. Events with over 600+ Conferences,1200+ Symposiums and 1200+ Workshops on Medical, Pharma, Engineering, Science,Technology and Business with 700+ peer-reviewed open access journals in basicscience, health, and technology.
We are pleased to invite you to join us at the International Congress on Metabolomics and Systems Biology 2019, where you will be sure to have ameaningful experience with scholars from around the world. All members of the organizing committee look forward to meeting you in Dubai, UAE.
Submit your abstract to any of the mentioned tracks. All related abstracts are accepted.
Register now for the conference by choosing an appropriate packages suitable to you.
Why to attend?
Meet experts and influence's face to face Conferences provide a great opportunity where most people can help each other uncover ideas and spark inspiration.
· Conferences Build Your Knowledge Base
· Encounter new vendors and suppliers
· Attending a conference allows you to grow and challenge yourself
· Attending conferences grow your professional network
· Position your company as a champion
· Network with leaders and influence's from the scientific, academic and R&D communities
· Director of Laboratories
· Universities, Industries
· Research and Diagnostic Laboratories
· Biomedical Research companies
· Metabolomics Instrumentation Technology Product Manufacturers
· Healthcare Institutions
· Market Research and Consulting Firms
· Metabolomics Instrumentation Technology Product Manufacturers
Welcome Message
It's our breath-taking colossal desire to welcome you all for the "2nd International Congress on Metabolomics & Systems Biology" scheduled during December 11-12, 2019 at Dubai, UAE .
Allied Academics Publication is an amalgamation of several esteemed academic and scientific associations known for promoting scientific temperament. Established in the year 1997, the conferences provide a global platform for the attendees to showcase their research and services in front of many key players in the field. test
Metabolomics Congress 2019 aims to bring together the prominent researchers, academic scientists, and research scholars to exchange and share their experiences on all aspects of Metabolomics. It is also an interdisciplinary platform for researchers, practitioners and educators to present and discuss the most recent advances, trends, and concerns as well as practical challenges and solutions adopted in the fields of Metabolomics and Systems Biology.
Sessions/Tracks
Track 1 : Metabolomics and Green Chemistry
Green chemistry and technology conference is correlating two topics of Environmental chemistry and the technology used for the better environment sustainability (sustainable chemistry). It includes Chemical Engineering in which the design of chemical products and processes on that to reduce and eliminate the use of substances which is hazardous to humans, animals, plants, and the environment. Disease epidemiology and modeling, disease appraisal and crop loss assessment; and plant disease control and disease-related crop management. Geochemical analyses are carried out on any natural sample such as air, volcanic gas, water, dust, soil, sediment, rock or biological hard tissues (especially ancient biological tissues) and also on anthropogenic materials such as industrial effluent and sewage sludge. genetic engineering, molecular markers, molecular diagnostics, vaccines, and tissue culture, to modify living organisms: plants, animals, and microorganisms. chemical engineers design most industrial processes that convert primary resources (be they of fossil, mineral or biogenic nature) into materials that then form the base for any further production. In addition to that, they are also in charge of most environmental technologies
Plant Pathology
Agricultural Science
Plant Science Research
Geochemistry
Chemical Engineering
Industrial Crops & its Products
Sustainable Chemistry
Chemical Oceanography

Track 2 : Metabolic Engineering
Metabolic engineering is the practice of optimizing genetic and regulatory processes within cells to increase the cells' production of a certain substance. a new technique called metabolic engineering emerged. This technique analyzes the metabolic pathway of a microorganism, and determines the constraints and their effects on the production of desired compounds. It then uses genetic engineering to relieve these constraints. Some examples of successful metabolic engineering are the following: (i) Identification of constraints to lysine production in Corynebacterium glutamicum and insertion of new genes to relieve these constraints to improve production[5] (ii) Engineering of a new fatty acid biosynthesis pathway, called reversed beta oxidation pathway, that is more efficient than the native pathway in producing fatty acids and alcohols which can potentially be catalytically converted to chemicals and fuels[6] (iii) Improved production of DAHP an aromatic metabolite produced by E. coli that is an intermediate in the production of aromatic amino acids.[7] It was determined through metabolic flux analysis that the theoretical maximal yield of DAHP per glucose molecule utilized, was 3/7. This is because some of the carbon from glucose is lost as carbon dioxide, instead of being utilized to produce DAHP. These databases contain copious genomic and chemical information including pathways for metabolism and other cellular processes. Using this research, an organism is chosen that will be used to create the desired product or result. Considerations that are taken into account when making this decision are how close the organism's metabolic pathway is to the desired pathway, the maintenance costs associated with the organism, and how easy it is to modify the pathway of the organism. Escherichia coli (E. coli) is widely used in metabolic engineering to synthesize a wide variety of products such as amino acids because it is relatively easy to maintain and modify.[12] If the organism does not contain the complete pathway for the desired product or result, then genes that produce the missing enzymes must be incorporated into the organism.
1 . History and applications
2 . Metabolic flux analysis
2.1 Setting up a metabolic pathway for analysis
2.2 Analyzing a metabolic pathway
2.3 Determining the optimal genetic manipulations
2.4 Experimental measurements
Track 3: Metabolomic syndrome
Metabolomics studies identifies metabolites for early diagnosis of disease. Obesity is becoming a major health concern in the world. Metabolic syndrome (MS) is a disease with complex pathological condition and pathogenesis involving multiple systems of the human body. Metabolomic syndrome is characterized with Central obesity, hyperglycemia, hyperlipidemia, hypertension, hyperuricemia, and abnormal aggregation of other metabolic components . Metabolomics provides molecular information for understanding pathogenesis and has been playing an important role in unravelling the pathophysiology and identifying early biomarkers of specific physiological responses of complex human diseases in particular metabolomic syndrome.
· Metabolic and endocrine science
· Metabolomics in obesity
· Metabolomics in diabetes
· Metabolomics in neuroscience and neurology
· Metabolomics in cardiovascular diseases
· Metabolomics and traditional medicine study
· Dietary patterns in Metabolic syndrome
· Genomics of paediatric metabolic syndrome
Track 4 : Cancer Therapeutic Approaches
Cancer biomarkers have many potential applications in cancer treatment, including screening, diagnosis, risk assessment, prediction of response to treatment, and monitoring of progression of disease. Metabolomics is growing in the field with particular attention to its application as a biomarker in cancer diagnosis. Biomarkers of disease could incorporate a wide scope of biochemical elements, for example, lipids, proteins, sugars, and little metabolites, nucleic acid, cytokinetic and cytogenetic parameters etc.
Cancer metabolomics and diagnostic biomarkers

Current Metabolomic methodologies

Applications of metabolomics in oncology and biomarker discovery

Metabolite platform for robust validation of biomarkers

Metabolomics in pharmaceutical research

Cancer metabolism meets systems biology

Novel approaches to cancer therapeutics

Cell-based biomarkers for cancer immunotherapy discovery and development
Track 5: Plant and Environmental Metabolomics
To characterise at sub atomic level of the Metabolome of plants under particular conditions is known as plant Metabolomics. Environmental metabolomics is the application of metabolomics that have enabled the interactions of organisms with their environment. This approach has many advantages for studying organism–environment interactions and for assessing molecular level of organism function and health. Terrestrial life necessitated a substantial increase in the capacity and generality with environmental Xenobiotics, including compounds present in food. It implies for Bioaccumulation, monitoring of environmental Xenobiotics, toxicity of select chemicals, persistence and residue dynamics. As such, metabolomics is finding an increasing number of applications in the environmental sciences, ranging from understanding organismal responses to abiotic pressures, to investigating the responses of organisms to other biota. Metabolomics is used for understanding relation between genes and the biochemical composition of a plant in response to its environment can be obtained, and this information can be further used to assess gene function..
Metabolomics for exposomics
Toxicology and drug metabolism
Plant metabolic network
Application of LC-MS in plant metabolomics
Nutrigenomics and plant functional genomics
Environmental Metabolome
Green systems biology
Metabolomics of genetically modified crops
Microbiome-related Metabolome
Track 6: Nutritional metabolomics
The study of nutritional metabolomics is also known as Edibilomics and is a multi-disciplinary science. It analyses metabolites in biological samples for a better understanding of biological mechanisms underlying the impact of diet on human health and disease and to facilitate molecular phenotyping for development of personalized Nutrition strategies. It provides Biological insights that reflect physiological and disease-induced biological states at the molecular level, considering genetic factors, the effects of Environmental exposures and health status. e.g., diet, medication, environmental contaminants and other lifestyle factors.
Metabolomics of genetically modified crops
Metabolomics in nutrition research
Dietary metabolites and cellular metabolism
Nutrigenomics and plant functional genomics
Food safety and contamination assessment using metabolomics
Emerging role of metabolomics in human nutrition
Track 7 : Food and Drug delivery systems
Foodomics contains the combination of biological sciences, food chemistry and data analysis. The food metabolomics is also known as foodomics. Food-omics applications include the genomic, transcriptomic, proteomic, metabolomics, study of foods for compound profiling, authenticity, biomarker-detection related to food quality or safety and the development of new transgenic foods. Recently food-omics have enabled nutrition and food domains through the application of advanced omics technologies in which Mass spectroscopy techniques are considered necessary. Researches are being done to understand the effects of gene-food interaction on human health (Nutrigenomics).With the help of systems biology research, nutrigenetics describes the whole body responds to food. New drug delivery approaches have been receiving significant attention. Metabolomics play a vital role in the prediction of drug's effects on the body by explaining the mechanisms by which drug response causes adverse effects.

Track 8: Analytical and Bio-Analytical Techniques in Metabolomics
Metabolomics is the relative analysis of endogenous metabolites and to identify and quantify metabolites from a biological sample. Metabolites represent various groups of low molecular weight structures including lipids, amino acids, peptides, nucleic acids, organic acids, vitamins, thiols and carbohydrates, which makes global analysis a tiresome challenge. The rapid development of analytical platforms, including GC, HPLC, UPLC, CE coupled to MS and NMR spectroscopy, could enable separation, detection, characterization and quantification of such metabolites and related metabolic pathways. To detect all metabolites in a biological sample, the complexity of the metabolome and the miscellaneous properties of metabolites has no single analytical platform can be applied. By single analytical technique, the integrated use of modern instrumental analytical approaches is beneficial to increase detected metabolites that cannot be achieved. These analytical platforms have been frequently used to provide tactful and valid detection of metabolites in a biofluid sample. Continuous development of these analytical platforms will accelerate widespread use and incorporation of metabolomics into systems biology.
Translational biomarker discovery
Nuclear magnetic resonance (NMR)
Mass spectrometry
Ratio analysis of NMR/MS
Analytical variability and issues
Chromatographic methods in metabolomics
GC/MS, LC-MS, CE/MS based metabolomics
MALDI mass spectrometric imaging
Metabolite extraction
Metabolomics screening
NMR fingerprinting, profiling

Track 9: Data Analysis systems biology
Data Analysis endeavours to study, analyse and understand complex biological systems by taking a corresponding integrated systems. Systems Biology and Metabolomics is the ultimate phenotyping as it opens up the possibility of studying the effect of complex mixtures. Recent advances in '-omics' technologies and the development of new computational techniques and algorithms have greatly contributed to progress in metabolomics. Computational Metabolomics and to highlight the similarities, differences and areas of convergence between metabolomics, genomics, proteomics and transcriptomics. Recent progress being made in four key areas of computational metabolomics: (i) metabolomics databases; (ii) metabolomics LIMS and data standards; (iii) spectral analysis tools for metabolomics and (iv) Metabolic Modeling. Some of the newly emerging computational strategies in metabolomics that are being used to aid in the identification of metabolites from biofluid mixtures analyzed by NMR and MS.
Systems biology methods to characterize biological systems
Knowledge discovery and data mining techniques
Machine learning and pattern recognition
Sequence motifs and alignments
Hidden markov model
Sequencing algorithms
Bioinformatics and cheminformatics
Stochastic modelling

Track 10: Clinical and Precision Medicine Metabolomics
Metabolomics is being used to interpret disease mechanisms, diagnose disease, recognize novel drug targets, improve drug treatments and monitor beneficial outcomes. Treatment decisions are based on the clinical stage of disease but fail to ascertain the individual ´s underlying biology and its role in driving Malignancy. The identification of better therapies is thus limited by the lack of sufficient data regarding the characterization of specific biochemical signatures. Metabolomics approaches promise a better understanding of a disease characterized by significant alterations in Bioenergetic metabolism, by identifying changes in the pattern of Metabolite expression in addition to changes in the concentration of individual metabolites as well as alterations in biochemical pathways. These approaches hold the potential of identifying novel biomarkers with different clinical applications. Translational Biomarker Discovery Core fuse recognizing, supporting and making pre-clinical biomarkers for working up the region of illness. The new field of precision medicine is transforming current medical practice and even reshaping future medicine.
Regenerative medicine and predictive medicine
Inborn errors of metabolism (IEM)
Nutraceuticals
Pharmacometabolomics and precision medicine
Precision medicine for mental disorders
Clinical applications of metabolomics in diabetes treatment
Clinical risk prediction using metabolomics
Personalized medicine
Metabolomics in clinical pharmaceutical R&D

Track 11: Metabolic Modelling and Synthetic Biology
Synthetic biology will revolutionize how we conceive and approach the engineering of biological systems. The vision and applications of this emerging field will influence many other scientific and engineering disciplines, as well as affect various aspects of daily life and society. This aims to create novel biological functions and systems not found in nature by combining biology with engineering. The workflow of the development of novel cell factories with synthetic biology is ideally linear which will be attainable with the quantitative engineering approach, high-quality predictive models, and libraries of well-characterized parts. Many Metabolites and enzymes, metabolic models, Metabolism and its components are useful in synthetic biology workflow. The spirit of Genetic Engineering to focus on whole systems of genes and gene products is extended by synthetic biology which analyzes biological organisms in their entirety.
Metabolic flux analysis and metabolic models
Metabolic network simulation
Genome-scale modelling & flux balance analysis
Genetic architecture of human Metabolome
In silico design of novel pathways
Signal transduction
Computational data analysis in metabolomics
Metabolite biomarker testing and clinical translation

Track 12 : Metabolomic Devices
Metabolomic devices is also called as Metabolomic Tricorder which analyzes blood, urine and saliva samples for their metabolites- chemical compounds produced within the body. In addition to aiding diagnoses, it is also prognosticative opening the possibility of treating predispositions to illnesses such as colorectal cancer, diabetes and pre-eclampsia. Direct quantitative estimations of Metabolite expressions in serum, pee, plasma, and tissue are crucial for the investigation of typical illness. Atomic attractive reverberation (NMR) spectroscopy is especially capable for focused investigation since it is quantitative, reproducible. Thermo Fisher, AB SCIEX, and Bruker likewise offer instruments for imaging MS, additionally called MALDI imaging. searchability and information reconciliation, the metabolomics group has a few activities to build up information vaults. Cases are Metabolights in the United Kingdom, bolstered by the European COSMOS (COordination of Standards in MetabOlomicS) consortium that is creating metabolomics information norms, and Metabolomics Workbench, which means to be the database for NIH-subsidized metabolomics ventures.
NMR and LC-MS based techniques
Biological signature (fingerprint) or mapping pathways
High-throughput analysis
Ultra performance liquid chromatography UPLC
Metabolic profiling and biomarkers
Ion mobility spectrometry for quantitative and qualitative applications

Track 13 : Metabolomics in Drug Discovery
Metabolomics can be used to facilitate lead compound discovery, to improve biomarker identification and to monitor Drug Metabolism and Toxicityincluding the use of metabolomics to facilitate clinical trial testing and to improve post-approval drug monitoring. Recent advances in metabolomics technologies are growing number of mainstream biomedical applications and metabolomic devices. Metabolomics provides chemical snapshot of a cell in terms of molecular components of specific cellular processes. It's a way to compare cells under different conditions such as healthy versus diseased. Diseases results in metabolic changes. Metabolomics is being used in Drug Discovery and in development from lead compound discovery to post approval drug surveillance. A consequence of disease leads to metabolic changes which causes disease advancement. Metabolomics can help in finding potential new sites for therapeutic intervention by identifying metabolic changes and provide activity information about possible novel drugs and Drug Scaffolds, indicate interesting targets for drug development, suggests binding partners of compounds. Furthermore, it can enhance the discovery and testing of new drugs and provide insight into the on- and off-target effects of drugs.
Toxicology and drug metabolism
QSAR and ligand-receptor models
Drug metabolism during drug design and development
Metabolites in identification of drug targets
Metabonomics in preclinical pharmaceutical discovery and development
Applications in drug development
Track 14 : Transcriptomics and Proteomics
Transcriptomic studies measure the simultaneous expression of approximately thousands of genes and can be used to recognize which genes are up or down regulated under certain conditions. Metabolomic studies provide information on the metabolites found within a biological sample. These two branches seek to uncover the underlying Systems Biology and when combined they can be successful in predicting gene functions or identifying Gene metabolite associations. Proteomics refers to study of large scale proteomes. Proteome is a set of proteins produced in an organism or biological environment. One of the Systems Biology's important objectives is to understand the regulation of cell behavior. And important approaches involve are Measure of Transcriptomic profiles through microarrays, RNA sequence etc. and measure of proteomic profiles through techniques such as Gel electrophoresis and Mass spectrometry.
Gene Expression Profiling and Epigenetics
Next generation sequencing (NGS) technologies
RNA-seq technology
Transcriptome and proteome analysis
RNAi gene silencing technology
Metabolomics and phytochemical genomics
Structural biology
Integration of proteomics and systems approaches
Signalling pathways
Identification of metabolites using high resolution
Track 15: Metabolomics & biotechnology
Biotechnology, including genetic modification, is a very principle approach to regulate the production of metabolites in plants to improve their adaptation to environmental stress, to increase crop yield and to improve food quality. Metabolomics plays a key role in plant molecular biotechnology, where plant cells are modified by the expression of engineered genes, because we can obtain information on the metabolic status of cells via a snapshot of their Metabolome. By concentrate the total arrangement of metabolites inside a microorganism and checking its correlation between its advancement forms and the earth, metabolomics can conceivably give a more precise photo of the actual physiological condition of the cell. Microbial Metabolomics has gotten much consideration as of late essentially in light of the fact that it backings and supplements an extensive variety of microbial research zones from new medication disclosure aspires to metabolic building.
Application of microbial metabolomics
Microbial metabolomics with higher throughput
Custom made separation for microbial metabolomics

Tracks 16 : Current Trends and Innovations in Metabolomics
Metabolomics has unique advantages in Systems Biology and Biomarker Discovery. The next generation of analysis techniques promises even richer and more complete analysis capabilities that will enable earlier clinical diagnosis, drug refinement, and personalized medicine. The advancements in statistical analysis that are enhancing and improving the performance of metabolomics is presented along with highlights of some recent successful applications. The most recent expansion of omics disciplines is Metabolomics and it has demonstrated quick development in the application to human wellbeing research in view of real headways in estimation and examination methods. Metabolomics has one of the preferences in frameworks science and Biomarker revelation. The upcoming age of examination procedures guarantees significantly wealthier and total investigation abilities that will empower sedate refinement, clinical analysis and customized drug. The headways in techniques and factual investigation that are upgrading and enhancing the execution of metabolomics is introduced alongside features of Fruitful applications.
Spatial metabolomics
Novel sensors and instrumentation for detecting metabolites
Network and pathway analysis for metabolomics
Chemical and structural characterization of new metabolites
Chemometrics, statistical analysis, and other approaches to data analysis
Computational MS
Databases.
Track 17 : Systems Biology innovations
Systems biology is the computational and mathematical analysis and modeling of complex biological systems. It is a biology-based interdisciplinary field of study that focuses on complex interactions within biological systems, using a holistic approach (holism instead of the more traditional reductionism) to biological researchSystems biology, and especially the elucidation and dynamic analysis of cellular signaling pathways, provides a new grammar or framework, for drug discovery. Systems biology is the 'systematic' interrogation of the biological processes within the complex, physiological milieu in which they function.
System dynamics

Big Data Acquisition and Analysis

Temporal dynamics of biological signals

Network Topology and Network Dynamics

Transcriptional network behaviour, organismal phenotype and evolution

Quantitative and predictive Physiology on the cellular and organism scale

Genomics and Epigenomics

Regulatory and Metabolic Networks

Mathematical Modelling

Clinical and Translational Systems Biology

Protein, and metabolic nodes

Complexity of gene regulation and metabolic pathways

Dynamic responses of networks to perturbations

Infectious Diseases and Host-Pathogen Interaction

Physics in Biological Systems

Integrative analysis

Knowledge graphs and graph theory

Dynamically-changing entities

Complex networks theory

Layered multiplex networks.
Market analysis
'The Future of Metabolomics' gives complete understanding into the compelling utilization of metabolomics all through drug discovery, preclinical development and clinical trials. The report also highlights the use of metabolomics in maximizing and sustaining revenues post-marketing and in the development of clinical diagnostics.

Scope & Importance:
The emerging techniques of metabolomics make it an ideal tool for new innovations in the pharmaceutical, preventive healthcare, and agricultural industries. Discovery of Biomarkers and drug safety screens are two examples where metabolomics has already proven its mark. In the future, with the accessibility of personalised metabolomics, we will potentially be able to track the trends of our own metabolome for personalised precision drugs and improved treatment strategies. Personalised precision treatment is likely to be more effective than our current medical approaches.
Metabolomics is now being extensively used in pharmaceutical and biotechnology industries for biomarker and drug discovery; pharmaceutical and biotechnology industries are expected to grow at a high rate in coming years, which is expected to boost the growth of the market.
The National Institutes of Health (NIH) grants funds to Metabolomics program. This aims to elevate national capacity in metabolomics by supporting the development of next generation technologies to enhance the sensitivity and speed with which specific elements of the cellular metabolome can be identified and quantified, providing opportunities, rising the inventions of chemically identifiable metabolites through the synthesis and availability of high quality reference standards, and by promoting data sharing and collaboration.
Rise in the number of clinical trials, toxicological studies, and health awareness for nutritional products, rapid growth of metabolomics data analysis software and solutions, and use of metabolomics as diagnostic tool for biomarker, screening of diseases is expected to propel the growth of this market.
Global Metabolomics Market Share by Countries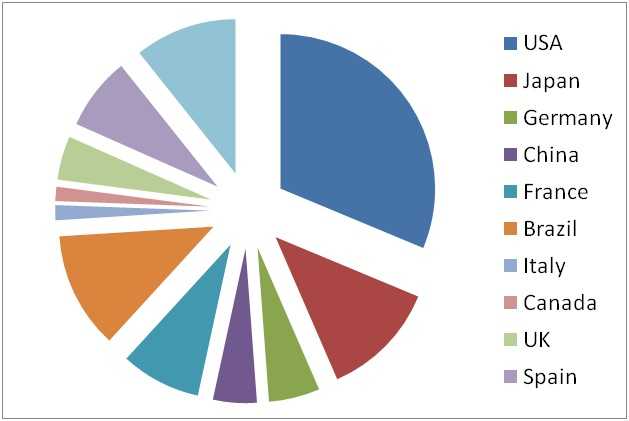 Why to attend?
Meet your target market with recent business reports on Metabolomics which manifests the tremendous growth in market value for metabolomics technology till 2019. Since metabolomics interrelated with omics sciences like Genomics, precision Medicine, Proteomics, Lipidomics and Transcriptomics, it would be a great opportunity for companies dealing with Analytical instruments useful in these fields. Also, many upcoming students and researchers can benefit themselves by participating world class International workshops, symposia during the conference which will be conducted by experts in their respective fields.
Target Audience:
Metabolomics Instrumentation Technology Product Manufacturers

Researchers and Scientists

Metabolomics Industry Consulting Firms

Metabolomics Research and Development (R&D) Companies

Healthcare Institutions

Research Institutes

Market Research and Consulting Firms

Directors/Managers & Business Delegates,

Director of Laboratories, Universities,

Investigators,

Post-Doctoral Fellows,

Students,

Biomedical Research companies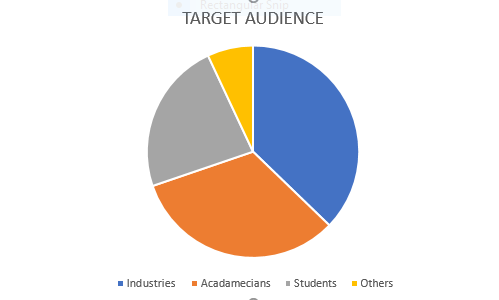 Glance at Market of Metabolomics:
The market is mainly driven by the increasing research funding for metabolomics from governments and private investors, growing demand for personalized medicine in the U.S. and Europe, and the increasing need for toxicology testing. However, low adoption rates and data complexity inhibits the growth of the metabolomics market to a certain extent. Metabolomics science is used extensively in biomarker discovery and drug assessment. Thus, the rapid growth experienced by pharmaceutical and biotechnology industries is assisting the growth of the metabolomics market.
In 2017, North America was the market leader with a share of ~42% of the global market, followed by Europe with a share of ~38%. The presence of large number of analytical equipment manufacturers has contributed significantly to the North American and European metabolomics market. The growth in this market is driven by the growing pharmaceutical and biotechnology industries.
The global metabolomics market was valued at $565 million in 2014, and $1030 million in 2016. and is expected to grow at a CAGR of 14.6% during the forecast period (2016–2021) to reach $2410 million by 2022.
Statistics which shows growth in importance of Metabolomics :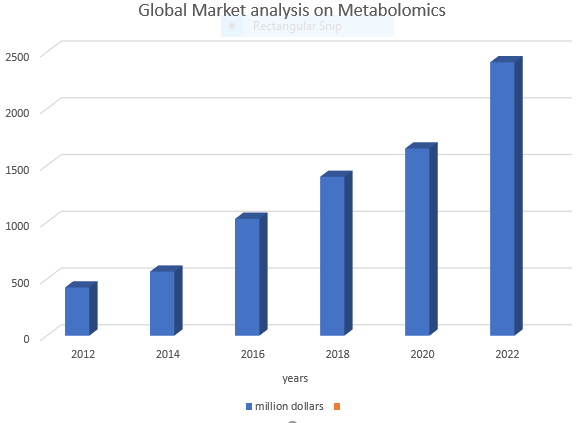 Statistics of Industries Associated with Metabolomics:
North America was the market leader with a share of ~42% of the global market, followed by Europe with a share of ~38%. The presence of a large number of analytical equipment manufacturers has contributed significantly to the North American and European metabolomics market. However, the Asia-Pacific region represents a significant growth opportunity for the metabolomics market during the forecast period of 2014 to 2019. The APAC market is expected to grow at a CAGR of 23% during the forecast period. The growth in this market is driven by the growing pharmaceutical and biotechnology industries.
The major players in the metabolomics market include Thermo Fisher Scientific (U.S.), Metabolon, Inc. (U.S.), Danaher Corporation (U.S.), Shimadzu Corporation (Japan), Waters Corporation (U.S.), Agilent Technologies (U.S.), and Bruker Corporation (U.S.)
Fund Allotment towards Metabolomics Research:
The National Institutes of Health has provided tens of millions of dollars in new funding to support three new Comprehensive Metabolomics Centers at Mayo Clinic, the University of Kentucky, and the University of Florida.
These three centers will receive an estimated $9 million to $10 million each over the next five years to create resources and initiate research programs that will ramp up the national metabolomics science capabilities.
NIH provided $14.3 million to fund the launch of three other metabolomics resource centers at the University of Michigan, the Research Triangle Institute, and the University of California, USA.
Funding to UC San Diego for this project is $6 million over five years, part of a total investment by the NIH of $51.4 for the metabolomics project. The awards are supported by the NIH Common Fund.
Mayo Clinic is one of six new federally-funded Comprehensive Metabolomics centres to support medical research on metabolomics — the study, at the cellular level, of how molecules are metabolized in the body. The award from the National Institutes of Health (NIH) is for $8.8 million over five years.
Major Metabolomics Related Associations across the Globe:
American association for the advancement of science

American association for clinical chemistry

American association for cancer research

American association of pharmaceutical scientists

American cancer society

Bioinformatics society of India

Nutrigenomics Organization

The British Society for Genetic Medicine

The Genetics Society

Netherlands metabolomics center

The Australian biotechnology association

Human Proteome Organization

Indiana Proteomics Consortium

Proteome Society

European federation of biotechnology

Australasian Proteomics Society

Clinical Genetics Society .